Sorry guys i have short time right now, but i promise you'll get the full AP report as soon as possible! But i wanted to share pics with you immediately, so here is a couple, for starters... The first one shows AntiProduct in Milan on June 7th 2002. They were amazed by the "tram" (which is a bus that runs on electricity, so has rails and wires on top), and I took a pic of them standing on one of the tram tracks. Everyone looks like a star here. A band on the loose! :)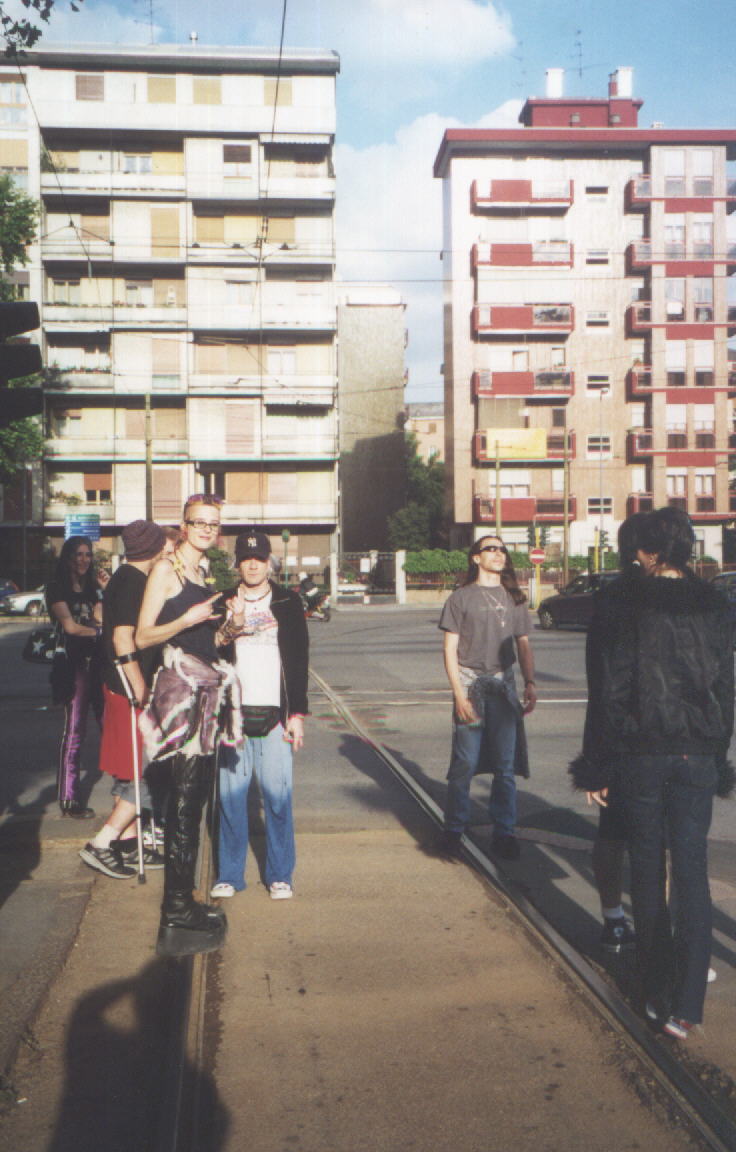 Then this photo shows them playing live at the Gods of Metal festival on June 8th. They were bottled but Alex kept saying he wanted more and more violence... until they started throwing bits of the football pitch over the stage, which was a fun thing to watch. The band says they had a great time, and bottles and grass were not a problem. And admittedly, after their show they were the ONLY band to walk around the venue,and they couldn't walk 100 metres without being stopped and chatted to, thanked for the show and apologized to in behalf of the other "uncivilized italian metalheads only there for Slayer". Which was nice!
I took many other photos, but I can't show them right now. Keep checking back and soon you'll find pics of 2001's Wildhearts support tour, then their appearences at Bulldog Bash and at Harlow, and many other photos. I apologize for the lack in updating. Hope you don't find this page half-assed but really i am tight with times. Keep the faith alive, my friends! I'll see you soon!
---
For any comment,suggestion,or whatever you might want to tell me,my email is:
thepunisher@antisocial.com
Sign The Guestbook
Back to the Main Page
---