ELIO E LE STORIE TESE
17 Julne1998


This was a special concert!In June there was the World Cup (don't ask "of what"...you know it's soccer!),and Elio decided to play gigs and in the meantime comment on the match!And all for free!So,we got there and they played a few songs before the match started,then commented on the match with their usual spectrum of rude/ironic phrases,and then,when it was over,they played for another hour!And,since we won,it was a great concert!!!I eventually went to see the comment to the final of the Cup,too,but since it was between France and Brazil neither the band nor the audience was very involved...but Elio rules anyway!

(click on the thumbnail to get the bigger image)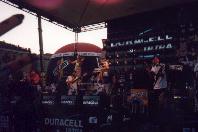 This pic is a bit dark,but you can see most of the band anyway!From the left,Feyez (you'll always live in our hearts,mate),Faso,Elio and Cesareo.The funny man in green in the background is Mangoni.He's my idol!And,yes,the show was sponsored by Duracell! :-)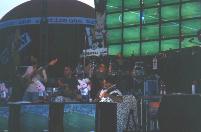 The match begins and the band sits on a sofa to watch it,commenting on how good we were!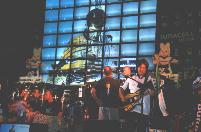 A special reporter from France:Rocco Tanica,the band's keyboards man,is now admitting he lost the ticket to the stadium,so he can't give us a proper comment on the match!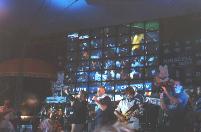 We won!The band erupts in loads of songs!As you can see in the background,"Italy 3-Cameroun 0"!In this pic,Mangoni is singing the Italian national anthem.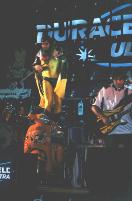 And here Mangoni changed his clothes to the ones of superhero "Supergiovane",the guy who defends youth,by smoking joints,driving around on scooters and talking in "youth jargon"!He's a real hero!(any man aged 37 dressing like that is a hero,actually!But Mangoni is...a SUPERhero!)

---
If you want to find a lot of links on this band (and lots of other info on any band actually!),just type its name in the window below and click "Go",and you'll be transported to Sonicnet,the net's best music page for links and info!!!

---
For any comment,suggestion,or whatever you might want to tell me,my email is: thepunisher@antisocial.com
Sign The Guestbook
Back to the Main Page