THE OFFSPRING
5 February 1999


This concert was ok!Yeah...just "ok",I'm afraid to say...I went there with great expectations...it was the third time I was seeing The Offspring live,and so far they never disappointed me...but tonite,they played with not enough soul!
All their songs were perfectly played and the tracklist was pretty good,too (even ifthere was just one song off the two first albums...what a pity!),but they were lacking soul and fun,and I surely felt it!Anyway,it was still a good concert and I'm sure less critical people than me have enjoyed it! :)

(click on the thumbnail to get the bigger image)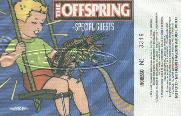 The ticket!!!
Here's the beginning of the show:Dexter has still to warm up,so he's still wearing his cool fur coat (I hope it's a FAKE fur coat!!!)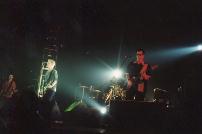 Ok,he's warmed up now and we can see his t-shirt!From left to right,you can see Greg K (bassist),Dexter (Singer,but also guitarist in this tour!) and Noodles (guitarist)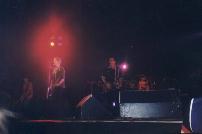 Same scene,different lights...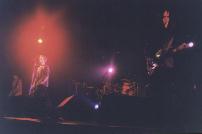 Woops,it seems I took too many pics of the band in this position!!! :)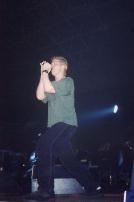 Ah,here is a cool Dexter closeup!He was dressed in a totally un-glamourous style,don't you think? :)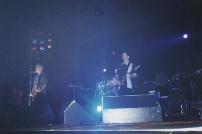 Behind Noodles you can see the keyboards used to play "Pretty Fly".On the edges of the keyboards you could see severed heads of children.Er,doll children...it was cool!

---
If you want to find a lot of links on this band (and lots of other info on any band actually!),just type its name in the window below and click "Go",and you'll be transported to Sonicnet,the net's best music page for links and info!!!

---
For any comment,suggestion,or whatever you might want to tell me,my email is: thepunisher@antisocial.com
Sign The Guestbook
Back to the Main Page