PIST.ON

22 April 1999


This band rules!!!They played a very good set despite the BIG problem afflicting them...the audience!Or,better...the lack of it!Since there was a football match the same night,a lot of suckers decided they'd stay home and watch tv instead of checking out this great band!!!
There were very little people attending the show,but Pis.on just did not care-they played a tight set,all the way through the end.The dorks at the tech deck even tried not to let them play the encores,but they came onstage again and ended the show!They were great!And i talked to them after that,and they said that it just happens,sometimes,that the club is not exactly ful...wow!I had never seen such a down-to-earth band!I loved them!
Burton even gave me a pick (along with a load of candies!),Henry made me sip some beer and Val.ium gave me a very nice thing to remember...look at the bottom of the page to see it! :)
Next time they'll be in Italy,I'll kick all metal-heads' asses if they don't come to the show!!!Pist.on deserve a lot of attention!

(click on the thumbnail to get the bigger image)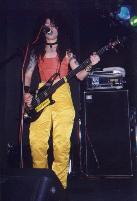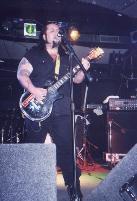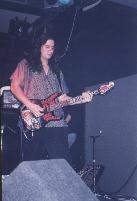 This is how the band looked like onstage!Val.ium at the bass,Henry Font in the middle singing and playing the guitar,and Burton Gans taking care of solo guitar!
Henry and Burton.Look at how cool Burton's guitar is.Cool drawing on the body,his name on the neck,and a pink "Show me your tits" sticker on the head stock.

Val.ium concentrating on her bass and keeping the rythm with her cute foot!She really made a point in saying she was "Sold out"! :-)

Tracklist of the night!

I know that usually I put the pics of the band and me in my "personal" page,but this band was so nice to me,I thought I'd save the effort to all the lazy ones out there and show these pics here,too!Look at how much Burton is smiling.It's cause he is grabbing my ass!Well,probably he was enjoying what he was touching!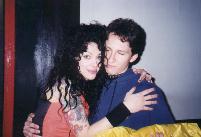 And now...me and Val.ium!!!She said she wanted to give me something to remember....well,this pic IS something to remember!(Yes,it is really her leg,at the bottom of the pic!)Thanks!!!You rule!

Hey,Pist.on members...I know you surf the net a lot when not touring (and maybe when touring,too!).So if you see this page and like it...drop me a line please!Thanks :-)

---
If you want to find a lot of links on this band (and lots of other info on any band actually!),just type its name in the window below and click "Go",and you'll be transported to Sonicnet,the net's best music page for links and info!!!

---
For any comment,suggestion,or whatever you might want to tell me,my email is: thepunisher@antisocial.com
Sign The Guestbook
Back to the Main Page