THE VANDALS
13 August 19968


Well,what can I say?I was in Uk,read Kerrang and...The Vandlas!They were playing near where I was!What better place to see them for the fourth time in my life?It was a cool show,even if after that me and my friends had to sleep in a park in the open in BIrmingham,the most dangerous city in England (or so they say).But who cares,we had just seen the Vandals!
A curious thing is that the drummer,that night,was not Josh,but No Doubt's drummer Adrian!I wonder what was up!And the pick up there...when i went onstage to stagedive,I just grabbed it and jumped! :-)

(click on the thumbnail to get the bigger image)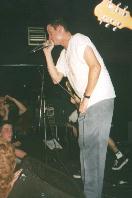 Dave Quackenbush heating up the crowd,singing "My girlfriend's dead".Not that the crowd needed to be heated up,cause the pit was already hellish!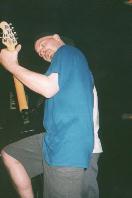 Warren Fitzgerald and his famous one-second-long solo!If all solos were like this...

Now Warren took the mic and sang "I have a date",and the crowd got crazy!!!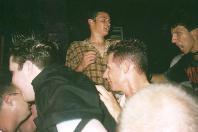 Just look at how crazy it all became!Look at the guy on the right,for instance.The one with the Ramones t-shirt.He's about to stagedive,just after he stole Waren's guitar pick!His face is the face of a madman!

And things got so crazy,that Warren fell and also cut his knee!Poor guy!This didn't stop him from climbing on the amplis and finish the song in such a position!

Now he's even jumping around,while Dave plays his guitar!And you can also see the jaw of No Doubt's Adrian!What a thrill,huh? :-)

---
If you want to find a lot of links on this band (and lots of other info on any band actually!),just type its name in the window below and click "Go",and you'll be transported to Sonicnet,the net's best music page for links and info!!!

---
For any comment,suggestion,or whatever you might want to tell me,my email is: thepunisher@antisocial.com
Sign The Guestbook
Back to the Main Page