Click here to get more info on the newest WASP release!!!
WASP
29 January 1997


We Are Sexually Perverted!That's what WASP stands for!And surely Blackie and co. were out to shock us with their sexuality...pity they chose a nun and a pig to do it...it was a "slight" fall towards bad taste,but who am I to judge...their music was really good,just as it has always been!Surely the highlight was "Animal-F**k Like a beast",with all the stage screens showing some interesting video footage...
Sadly the whole show was flooded in red lights (what do you expect,from sexual perverts?),so the pics didn't come out too well!They are all SO red!!!!

(click on the thumbnail to get the bigger image)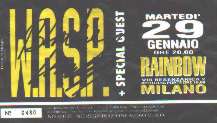 Don't forget your ticket...(and,yeah,it's signed by The Man himself...)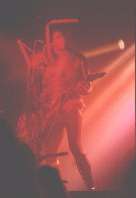 Blackie Lawless!He was wearing very cool boots and,er,a crotchless pantyhose.Oh,yeah,he's a pervert,after all...that's the way we like it!

Chris Holmes.This man rules.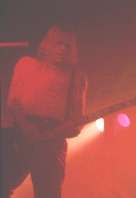 Chris again.Pity the red lights are covering his great body tattoos!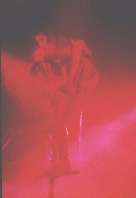 Blackie relaxing on the mic stand!Not many people of his age can do that!Ah,what the hell-he IS young,after all!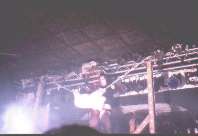 The infamous "All pigs die-Kill,fuck,die" coreography....Actually in this pic Blackie seems to be wielding a light sabre...

---
If you want to find a lot of links on this band (and lots of other info on any band actually!),just type its name in the window below and click "Go",and you'll be transported to Sonicnet,the net's best music page for links and info!!!

---
For any comment,suggestion,or whatever you might want to tell me,my email is: thepunisher@antisocial.com
Sign The Guestbook
Back to the Main Page