ROCKET FROM THE CRYPT
21 October 1998
I had heard of RFTC during my summer holidays in Uk,and I eventually managed to miss a free show they gave in London (it was just for 200 people,and since I was not even in London that day,it would have beena bit hard for me to get in...).But I had heard their cd,so I wanted to see them live...and I did!Wow,they were good,they came onstage all dressed in the same way and played such a tight set!People were going crazy in the pit!
And I really love their "Prophets of Rock and Roll" attitude...I mean,there are not many good RNR bands out there,and it's great to see they live and breath on it instead!

(click on the thumbnail to get the bigger image)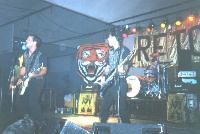 Speedo,singing and playing guitar,and guitarist ND.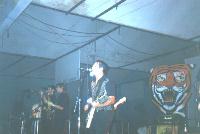 Here you can see the horns section of RFTC.They have lots of songs involving trumpets and stuff,and they mix so well with the hard rock music they play!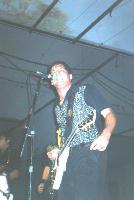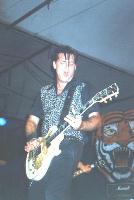 Speedo.They say you can tell how much fun he's having by looking at his quip.The faster it melts and falls down on his face (in a Misfits-like style),the more fun he's having.Well,tonite it melt pretty fast!

A good band shot!Unluckily I don't know the drummer's name!But,he can be seen,standing proudly behind his drumkit!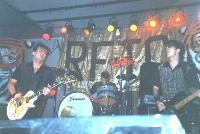 The stage was filled with RFTC stuff:their logo,their name,and the pointless tigers!It all added to the atmosphere,anyway!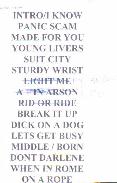 The tracklist.They played all their best songs!!!

---
If you want to find a lot of links on this band (and lots of other info on any band actually!),just type its name in the window below and click "Go",and you'll be transported to Sonicnet,the net's best music page for links and info!!!

---
For any comment,suggestion,or whatever you might want to tell me,my email is: thepunisher@antisocial.com
Sign The Guestbook
Back to the Main Page